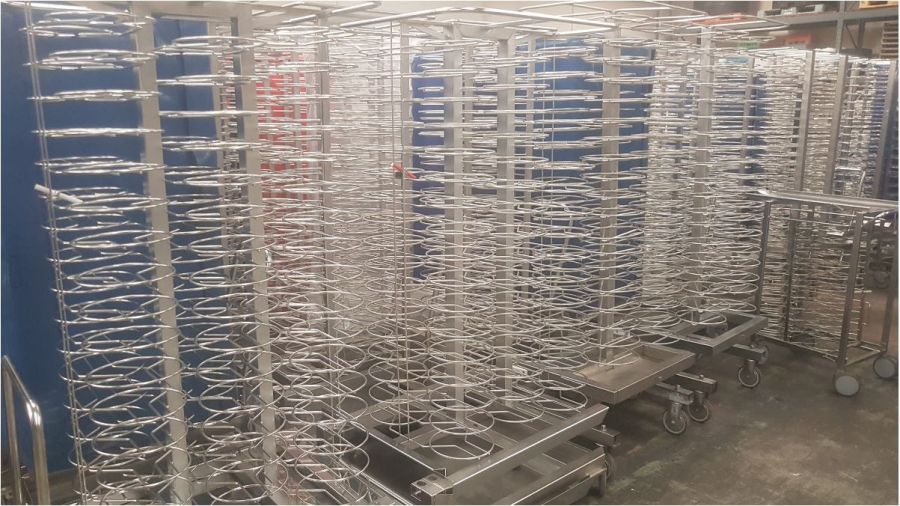 Providing banqueting for groups of 150 - 500 guests or more, requires a considerable amount of planning, not only offering a doable menu but how to deliver a larger than normal quantity of food within a short period of time. Various catering equipment manufactures offer high volume cooking equipment which help produce great results. We look at providing a traditional Christmas dinner in a catering marquee. What do we need and what pitfalls are we likely to encounter. Let us look at the equipment and labour required in each option.

Cook from Fresh - prepare and assemble on the day of event, plate up on the pass.
Cooking from fresh requires a significant amount of power and staff. The power required can come from Liquid Propane Gas (LPG) bottles or static LPG tank, Generated Power, from the National Grid or a Road Tow or static generator. When planning your kitchen you will need to have some technical knowledge to know what services are available at your venue or field kitchen. If you are not sure you should hire an Outside Catering Hire Advisor.

Cook in Advance – plate up in advance, refrigerate on Regen trolleys, store in walk in cold room, regenerate using Rational Regen ovens and Rational oven.
Cooking in advance allows you to spread the time required to produce a finished result over a longer period, reducing staff costs. You will need a regen oven, thermal regen cover, walk in fridge, blast chiller, holding oven (Alto Shaam), meat slicer, and a 6 burner range.

This is how you can master rush hour.
Finishing in a Rational Self Cooking Center is the perfect solution for your Christmas lunch or à la carte. Serving up to 150 meals with only two kitchen staff is simple, without the stress or hectic rush, quite simply at the push of a button.
The dishes from your menu that have been prepared in advance are chilled and ready. Eight minutes before service the food is given the Finishing treatment in the Self Cooking Center, sauce, gravy or garnish are added prior to serving.

2236 Rational Finishing Trolley 15 Plate
Rational Oven Hire Model 61
Rational Part No 60.61.128
15 plates regeneration
Maximum plate height 32mm
Maximum food height 53mm

2237 Rational Finishing Trolley 20 Plate
Rational Oven Hire Model 61
Rational Part No 60.61.047
20 plates regeneration
Maximum plate height 25mm
Maximum food height 70mm

2238 Rational Finishing Trolley 26 Plate
Rational Oven Hire Model 101
Rational Part No 60.11.149
26 plates regeneration
Maximum plate height 32mm
Maximum food height 70mm

2239 Rational Finishing Trolley 32 Plate
Rational Oven Hire Model 101
Rational Part No 60.11.030
32 plates regeneration
Maximum plate height 25mm
Maximum food height 53mm

2240 Rational Finishing Trolley 34 Plate
Rational Oven Hire Model 62
Rational Part No 60.62.017
34 plates regeneration
Maximum plate height 32mm
Maximum food height 61mm

2241 Rational Finishing Trolley 24 Plate
Rational Oven Hire Model 62
Rational Part No 60.62.061
24 plates regeneration
Maximum plate height 40mm
Maximum food height 80mm

2242 Rational Finishing Trolley 52 Plate
Rational Oven Hire Model 102
Rational Part No 60.12.022
52 plates regeneration
Maximum plate height 32mm Maximum
food height 63mm

2243 Rational Finishing Trolley 42 Plate
Rational Oven Hire Model 102
Rational Part No 60.12.062
42 plates regeneration
Maximum plate height 40mm
Maximum food height 82mm

2244 Rational Finishing Trolley 60 Plate
Rational Oven Hire Model 201
Rational Part No. 60.21.099
60 plates regeneration
Maximum plate height 25mm
Maximum food height 53mm

2245 Rational Finishing Trolley 50 Plate
Rational Oven Hire Model 201
Rational Part No 60.21.104
50 plates regeneration
Maximum plate height 32mm
Maximum food height 70mm

2246 Rational Finishing Trolley 84 Plate
Rational Oven Hire Model 202
Rational Part No 60.22.182
84 plates regeneration
Maximum Plate height 40mm
Maximum food height 80mm

2247 Rational Finishing Trolley 100 Plate
Rational Oven Hire Model 202
Rational Part No 60.22.109
100 plates regeneration
Maximum plate height 32mm
Maximum food height 66mm

2248 Rational Finishing Trolley 120 Plate
Rational Oven Hire Model 202
Rational Part No 60.22.108
120 plates regeneration
Maximum plate height 25mm
Maximum food height 53mm

Thermal Covers can hold plates hot for up to 20 minutes

Hire Rational Thermal Cover Model 61 6004.1007
Hire Rational Thermal Cover Model 101 6004.1009
Hire Rational Thermal Cover Model 62 6004.1016
Hire Rational Thermal Cover Model 102 6004.1014
Hire Rational Thermal Cover Model 201 6004.1011
Hire Rational Thermal Cover Model 202 6004.1012