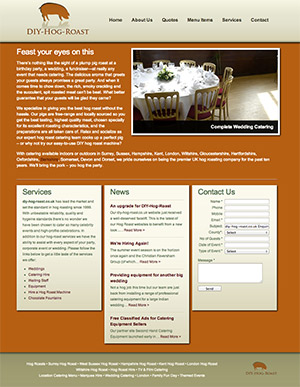 Our diy-hog-roast.co.uk website just received a well-deserved facelift.
This is the latest of our Hog Roast websites to benefit from a new look ... better organised, simpler options and a tidier appearance. This one is a variaiton of our hog-roast.com design, which we updated in 2012 .. The update last year for hog-roast.com was the first major appearance change for our original website which launched soon after we started providing Hog Roasts in 1999.
The new site, like our others, offers customers the convenience of online quoting and booking ... features that have helped keep our Hog Roast sites among the leaders in UK spit-roast catering for well over a decade.
We will be posting more website news and tidbits from our life of Hog-Roast catering soon.