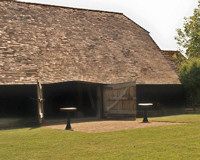 Yesterday Elizabeth and I had the pleasure of catering fish and chips from our beige fish and chip Train Tram for 165 guests at Gildings Barn, Newdigate, Surrey. What a delightful original barn with a selection old farm implements and plenty of history. We were greeted by Proprietor Penny Graepel on arrival who showed us where to plug in for our lights, extraction and interlock safety device. Our Tram specially built for wedding events can cook from fresh with an extra staff member 100 fish and chips in 20 - 30 minutes!
Our next step was to fire up the fryers and get blanching home made chips. Service duration on this job is 1 - 2 hours with 'cook from fresh' traditional fish and chips with homemade mushy peas. Our total power output on the Tram is 100kW via four fish & chip frying pans. At Gildings Farm we only need to use 3 out of 4 fryers. Elizabeth cut the Atlantic Cod and seasoned the homemade mushy peas. We always arrive 1 - 2 hours before serve time. Access and parking is easy at Gildings Barn with a big area to turn the fish and chip tram around. We are all ready to go at 17.00hrs so Elizabeth goes to find Georgie to confirm the serve time hasn't been delayed.
We are off at 17.30hrs I've got a hot box with 25 cod, one gastronorm tray of chips ready and one in the fryer plus another 2 pans of fish ready for the off. Needless to say we have done this before....a few times.
55 minutes later we are all finished.
Great venue, nice people, lovely evening.
Gildings Barn, Gildings Farm 01293 862 232
Wedding Fish & Chips 01428 751821