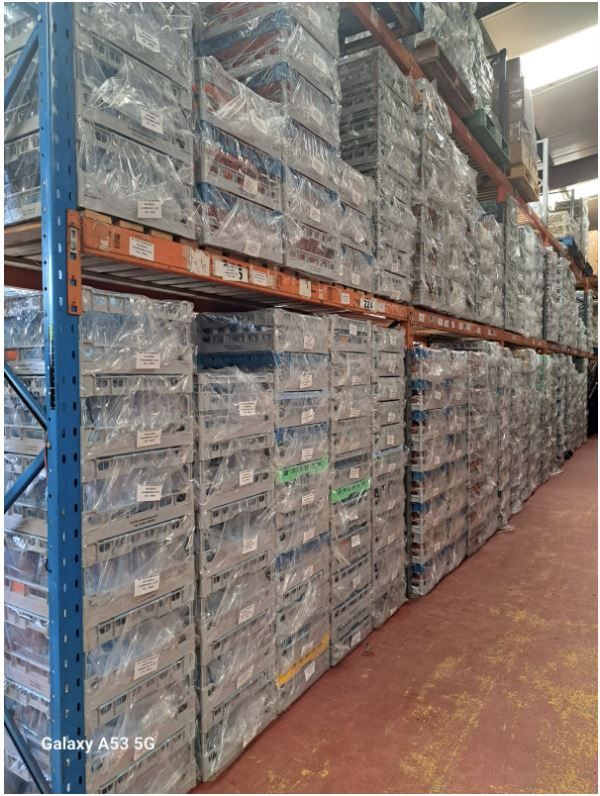 We are selling our entire stock of event glasses, crystal glasses, and glass racks from Nick at Caterbox and Fries Rack Systems.
Glass hire is a lucrative business as you allways get to add new glasses and get paid for losses. Profit on the hire, profit on the wash up, profit on replacements.
In stock we have circa 1,500 50cm x 50cm racks full of glasses ready to hire. Each glass rack is full of washed glasses that are wrapped in polythene ready to deliver.
Depending on the height and configeration the racks have average delivered cost of £50 each totalling £75,000 + vat of glass racks. In thoses racks are average 30 glasses per rack @ circa average £1.50 each equates to £67,000 + vat value of glass stock.
Our GlassHire.co.uk website channels a lot of inquires to our event group organisation.
Not many people know that all new glasses need washing and drying to remove the smoke marks and releasing chemicals that release the glass from the hot moulds.
The inventor value with a few hundred Octoberfest Stein glasses is around £150,000.
As we already have a dedicated glass hire department and website GlassHire.co.uk, the glasses have all been washed and packed ready for hire, 20 years knowledge in the business is of value too.
The asking price for the whoe parcel including transfer of the wedsite is £75,000 which you should get back in your first year of trading.
If you want to start a new business or add glass hire onto an existing event hire business, please don't hesitate to contact Peter Stuart on 07391 604 110