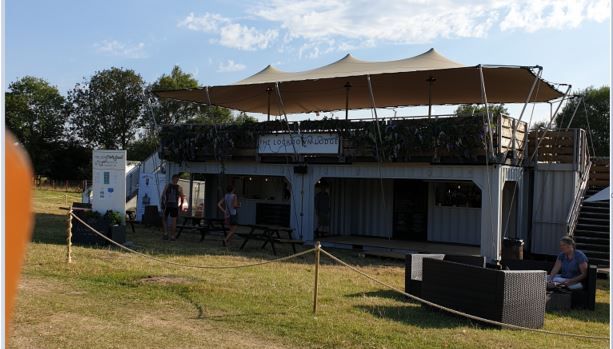 Our Client is Minna Hughes an up and coming young Pop-Up Caterer already with a lot of experience gained from sheer hard work working with her parents Lisa and Chris Hughes. Minna is 'a doer', she is working on this project with Jimmy Garcia another well-known pop-up catering entrepreneur. Chris was onsite building the structure in record time and tweaking the finer details.
The Lockdown Lodge is a purpose-built modular structure which has a full fitted and functioning kitchen including Rational ovens, Blue Seal chargrill, Plancha, extraction canopy, a cocktail bar, beer pumps, ice machine and all the modern cooking equipment for providing quality catering.
An upstairs restaurant with seating for circa 60 guests, or 30 guests during Covid-19. The restaurant covers were fully booked well before launch day. Thereafter, street food, cold drinks and beer is served all day.
The has been a lot of interest in what Minna Hughes and her team have achieved in such a short space of time. BBC South heard about Minna's achievements, came to the Lockdown Lodge and made a new story https://www.youtube.com/watch?v=UYK0AYBohC4
A very pleasant discovery if you are walking along the towpath in and around Henley.
Why don't you pop in for a gourmet burger and fries...we did absolutely delicious !
Guests coming from the Hambleden side of the river would be best to park in the public car park at Mill End and walk down and cross the weir and lock – it is about a 10-minute walk. Please do not park at the Mill or Marina as that parking is reserved for residents.
Guests arriving by boat are requested to moor upstream and not on the moorings reserved for those using the lock.